How to add and use the GREEN queue with your Mac
"How do I add the GREEN queue to Mac or Windows without any special software?"
"How do I add the GREEN queue to Mac with the SPrint application?"
Install the drivers from this link
Login to AccessSheridan, then go to "Software Installation" and choose "SPrint"
Once you've downloaded and launched the app, enter your Sheridan credentials and then choose the correct campus in the dropdown menu. Choose the correct driver based on the specific printer you intend to use -- the printer will have a label on it, indicating the specific model number. Then click the blue "Add (...)" button at the bottom. See the screenshot below for what SPrint looks like: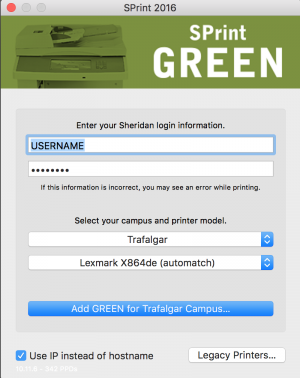 "How do I print in grayscale (aka "black and white") with the GREEN printers?"