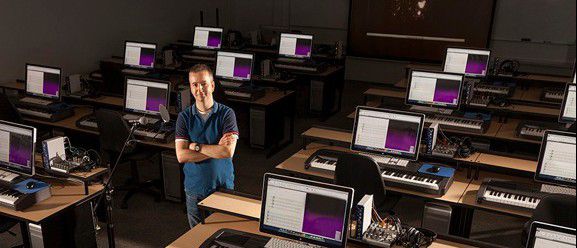 I've been a MacTech since 2001. My main focus is supporting the Mac laptops that are used by students in the Mobile Arts programs at Sheridan. This currently consists of BFTV, Journalism, and Journalism New Media.
Support includes hardware repair, software troubleshooting, data recovery and any other technical help Sheridan students need.
Aside from the mobile work I do, I also look after the MIDI Lab which is a 20 seat Digital Audio Recording classroom. Students in this lab learn how to compose and record multi-track digital music combining software instruments, with real audio tracks (such as their own vocals). Classes in music notation and sound mixing are also taught. Music Theatre and CCIT students mostly use this lab.
With the assistance of the Program Technologists, I also take care of the software deployed to the BFTV and ATVF Labs which are S306, S310, S323, S324 and S327.
Contact Information
E-mail: rick.ruse@sheridancollege.ca
Phone: 905-845-9430, ext 2503