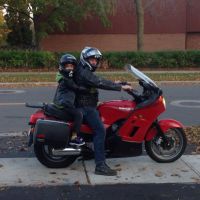 I'm Mark Galaszkiewicz, and I'm a MacTech who is also a fan of Linux and Windows.
     I work as a Technologist for the Interaction Design Program and the Game Design Program.  I also administer servers for the C153 Mactech group and have taught network and database courses for CCIT & IXD.  I've worked at Sheridan for over 20 years, 8 of which in ACES supporting Windows, and Linux operating systems, the latter 12 supporting the Mac OS and peripherals in the Arts.  I've supported servers, desktops and laptops as well as performing network installation, software development and unix scripting.  I still do some side work as a Network Technologist in the industry.  I also help out with my family's cottage park in Port Elgin.
     Off work I'm interested in long distance road trips, motorcycle riding, windsurfing, skiing, wild feed satellite tv, IPTV, home theater, home automation and alternative music.  I listen to new wave, hip-hop, punk, ska, and classical.  80's retro is my jam.  I'm working myself up to running a half-marathon, but my nike fuel seems to disagree.
    Currently I'm working on projects using ardiunos, raspberry pi's, VR headsets and circuit design.  My own long term personal project is to build a WWVB or CHU radio clock with nixie tubes, that and a Grey-Hoverman antenna.  I love spending time with my three kids, playing video games and road-tripping.  Got a question, I'm happy to help.  
Contact me at: mark.galaszkiewicz@sheridancollege.ca