General Information
Sheridan has a virtualization setup that offers a Windows-based experience for those at Sheridan. This is a great option for various computing needs that require the Windows operating system, especially if you don't desire (can't proceed with) a Bootcamp installation.

 
Requirements
Sheridan credentials (ie. AccessSheridan credentials)
Connected to Sheridan's campus networking (wired / wireless / vpn)
VMware Horizon Client application (see below for download link)

 
Software Download
The quickest way to acquire the VM Horizon Client application is at this link:

click here

(scroll to the "VMware Horizon Client for macOS" & click "Go to Downloads")

 
Software Configuration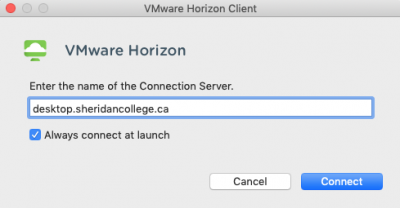 Connect to Sheridan's network 
on-campus: wire or wireless
off-campus: VPN


Enter this server address:
desktop.sheridancollege.ca


Click connect and then:
enter your Sheridan username and password


That's it!

 
Support
If you have any issue with any of the requirements or instructions,
please contact us directly by emailing mactech@sheridancollege.ca