Adobe CC Licensing
As an employee or actively-enrolled student, you are entitled to free licensing for Adobe Creative Cloud products.

To get your Adobe licensing provisioned to your Sheridan account, 
please visit this webpage:



Note: Student licensing remains active for one term post program completion, and a notification is delivered via e-mail before the expiry date. 

 
Download & Installation
To download and install Adobe software,
please visit this link:



 note: This is a direct link to Adobe. AppsAnywhere is an alternative.

 
Adobe Sign-In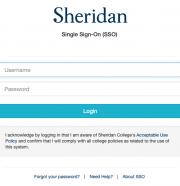 Once you've taken care of the provisioning as mentioned in the first section above, your Adobe sign-in experience (for classroom workstations and personal devices) is as follows:



 

 

When the Adobe CC sign-on interface shows, enter your full Sheridan email address (__@sheridancollege.ca) 
As soon as you proceed to enter a password, the Adobe sign-in window will automatically flip to the Sheridan Single Sign On (SSO) interface
Enter your Sheridan username & your Sheridan password
That's it!

 
Support
If you have any issue with any of the requirements or instructions,
please contact us directly by emailing mactech@sheridancollege.ca

If you have any issues with your license provisioning, please e-mail adobe_licenses@sheridancollege.ca